Thailand-Travelogue :

Ferg & Jude\'s Thailand Adventure 2002
Lampang

Wednesday 13th November
Riverside GH - best guesthouse in northern Thailand

We had breakfast at the Guesthouse and tried a black sticky rice with coconut wrapped in a banana leaf. The bus to Lampang departed from the bus station just up the road. Unfortunately we picked the local bus (78bt) which was very crowded. It took 2 hours with Ferg and I squeezed into a tiny seat. As seems to be usual all over Thailand the bus station was out of town and we had to get a songthaew into the town centre. We booked into a fantastic place called "The Riverside Guesthouse" as per a L.P. recommendation. (No connection with the one in Chiangmai.) We got a fantastic room with a balcony overlooking the river. The room was in an old teak house and was tastefully decorated. The owner spoke excellent English and was very helpful. I would highly recommend this place to anyone staying in Lampang.
We took a walk into town to get our bearings. Saw the colourful horse and carts that Lampang is noted for. We were very tired, hot and hungry from our journey so we settled on lunch at the Riverside Restaurant (again no connection to the guesthouse). Tummys full it was time for the oldies to have their nap, being constantly on the road was finally catching up with us. Feeling refreshed we went in search of an internet café to catch up on our emails, then back to the guesthouse for drinks on the veranda. We again went to the Riverside Restaurant for dinner and the food was excellent.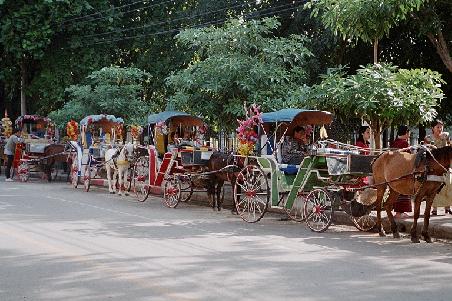 Lampang horse and carts

Thursday 14th November
The Elephant experience

We hired a small motorbike from the guesthouse for 200bt. Getting out of Lampang was easy and we headed north to the Elephant Conservation Centre. The road was good all the way and it took us 30 minutes to get there. We arrived at 9am before all the tourist buses and paid 100bt each for a ½ hour elephant ride. We followed a narrow trail across a creek then up a hill that was very muddy and slippery but the elephant took it all in his stride. We passed a couple of village grass huts and a corral holding a mother and baby elephant. We waded through a shallow lake and got back just in time to see the elephants being washed in the creek.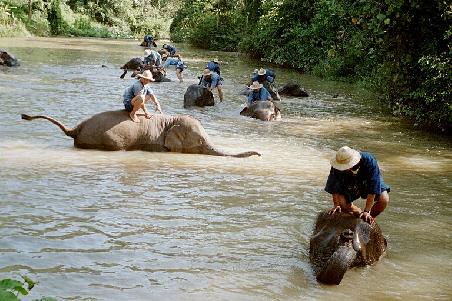 Elephants bathing at the Lampang Elephant Conservation Centre
The elephants submerged their heads and the mahouts splashed the top and gave them a rub. A couple of them were mucking around and squirting the mahouts. The elephants hung around on the bank after their swim and we were able to pat them.
We paid 200bt for the elephant show which was very interesting. They performed various commands such as kneeling, sitting, rolling over and moving logs. After the show we were given bananas and sugar cane sticks to feed to the elephants. When elephants eat bananas they peel off the skin with their tongue and spit it out. It was great to get up close with these beautiful creatures.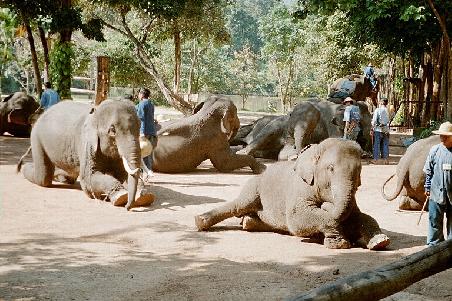 Elephant Show
We did the touristy bit and bought a few miniature elephants at the shop. We grabbed a bite to eat at the café then hit the road again. We stopped at the Jungle Market "Thung Kwian Market" and spent ½ hour wandering around.
We then headed west of Lampand to Wat Phrathat Lampang Luang. This was built in the 1400's and has a 45m high gold chedi. It was very run down and probably not worth the drive out to see it. We tried a different route back to town and of course got slightly lost. A lovely old Thai woman helped with directions. I spoke minimal Thai and she spoke no English so it was amazing we found our way. Back at the guesthouse we sat on the communal veranda overlooking the river while the owner played very Bluesy guitar music. Creatures of habit we dined again at the Riverside Restaurant and walked around a small night market.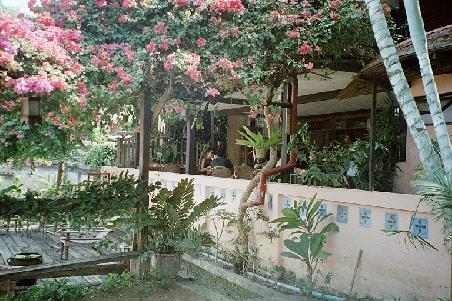 Communal veranda at the Riverside Guesthouse in Lampang
Description:
Our first trip to Asia. Plan is to take every day as it comes, travelling on local buses and stopping when the whim takes us.
Details:
| | |
| --- | --- |
| Start of journey: | Oct 26, 2002 |
| Duration: | 4 weeks |
| End of journey: | Nov 22, 2002 |
Travelled countries:
Thailand
Judy Whaites
is an active author on break-fresh-ground. since 13 years.
About Judy:
I live in Townsville, northern Australia, love to travel and I am a keen scuba diver.