Wandering in America del Sur
Travel time: July 2005 - March 2006 |
by Allison Webb
The Chilote Charm
After a long week of meetings half done, boarded the ferry with my colleague and friend, Joe and Kurt for Chiloe Island, one of the largest islands in Chile off the coast of Puerto Montt in southern Chile aka the home of aquaculture. As soon as we hit the ferry dock and started our trip and saw the sea wolves (no, not sea lions as we were corrected by one local!) leaping through the air alongside the boat, as if on cue, I knew that we were going to be swept up in the magic of the island.
There is something about the island life that just somehow forces you to relax, slow down and get on island time and Chiloe is no different in that regard, but it also has its own unique charms and we were soon to fall hopelessly, completely, under its spells. They say that it has its own myths and legends like the mischievous gnome, Trauco, who has the power to seduce women and maybe that is what happened, but I fell hard.
The landscape is verdant greens, rolling hills and almost at every twist and turn, a view of the sea in protected bays resembling Ireland, but then surprisingly, steep coastline with cliff face leading down to miles of deserted beaches beckoning ... Every town has a historic church more than two centuries old built in a style, completely Chilote in nature, and the specialty of the island, shingles, in differing patterns going in various directions and brightly coloured that could only look at home here, in this world.
Having once before experienced Chiloe, I was no stranger to its earth, but it is also famous for being of the rainest places in Chile, but luck be with us, not a drop fell on us. Day after day the sun shined on, glorious sunshine as we toured around from place to place admiring the diversity of its small towns and cities of Castro and Ancud.
One of our highlights was a trip on the local bus, not another tourist to be found, to the island of Quinchao, just over an hour as the crow flies from Castro. There is nothing quite like having the bus screech to a halt on the side of the road, then back up for minutes to pick up some locals who didn´t quite make it to the highway in time! Repeat several times and you start to get the picture. Of course this is complemented by door to door service since everyone gets dropped off right at home. And then our personal favourite, backing on to the ferry because it only goes one way! I had to admire the driving skills because there was no way that I could get that wide bus on that tiny little ferry without losing a mirror or two!
And for dinner when you´re hungry, you head down the beach, letting your senses guide you, the sound of oysters shells falling onto the table, the smell of lemon, mixing with salt and ocean breezes to the famous restaurant at Curaco de Velez where you sit looking onto the bay on your wooden stump stool and table while fresh farmed oysters are shucked in front of you, straight out of the water, lemon squeezed and life seems pretty damn good especially for the $2/dozen you end up paying! But then you have to run for the bus because the last one is leaving at 8pm and you have to be on it or else it´s a night on the island which doesn´t seem such a bad alternative after all ...
And when you think you can´t top your fresh oyster dinner on the beach, there is the visit to see the penguinos (penguins)nesting in four small colonies on rocky islets off the west coast of the island where it is rugged and the setting is reminiscent of Cannon Beach in Oregon with huge boulders and cliff face setting off this incredible soft, sandy beach. And we were wondering when we got there if we were going out in the Otway Foundation´s brand new zodiak, but in this case, we ended up with the local fishermen in their boat. May not have been politically correct, but it was worth its weight in entertainment value.
The boat that we went in was in hip deep water and I had to burst out laughing when I saw that the fishermen were going to piggyback us to the boat so that the little touristas would not get their precious feet wet! There´s nothing quite like riding on the back of a fishermen smelling of the sea, alcohol and sweat to make a girl swoon!!! And after that, the gregarious fellow entertained us with yarns that only a fishermen could tell.
But the best thing was, apart from being tossed in the surf, was watching the penguinos, Magellanic and Humboldt frolicking in the water and waddling on the islands in their little tuxedos. We cruised around from islet to islet to see about 2000 pairs at life and play. There is something about penguins that never fails to bring a smile to your face and after snapping some photos, I put my camera away and just soaked in the atmosphere, revelling in the moment and the wonders of nature!
But things are not all well and good as we found out, the politics between the Otway Foundation, a NGO, the local fishermen and fishers from other parts of Chile are complicated and probably a bit much for my Spanish, but conflict loomed large and we wondered what the future would hold for this area and the penguinos.
And the island in general is changing. The population has doubled from ten years ago with a lot of in-migration because of aquaculture. Over almost every hill and dale, you look to sea and see a farm, shellfish longlines cluttering bays and salmon farms side by side. And there is talk of building a bridge too. But for now, it is still one of the most unique places in Chile, full of character, charm and warmness of locals. And as we left the sunlight dancing on the yellow fishing dorries in the harbour, we said goodbye to its legends, and tried to lock its feeling in our hearts.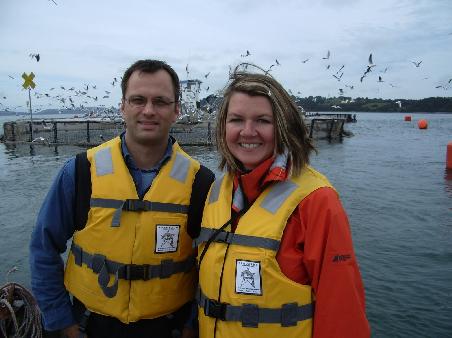 Joe and I hard at work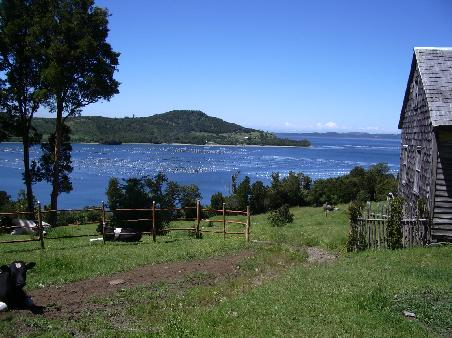 The pastoral life with a bay of longlines in the background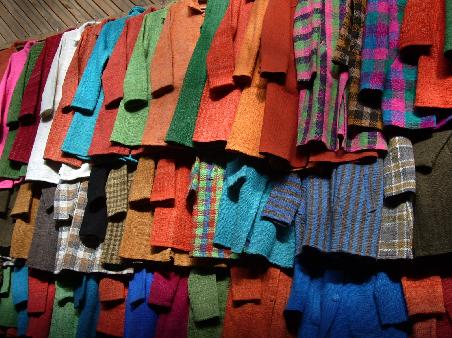 The island´s famous crafts - wool, wool and more wool in Castro´s market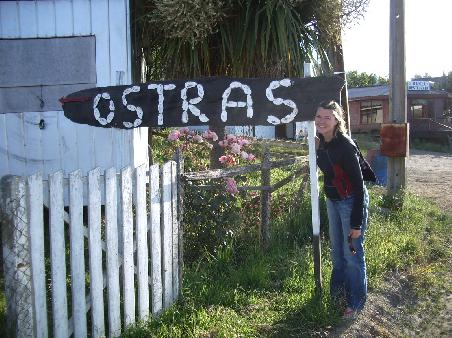 Our favourite oyster bar so far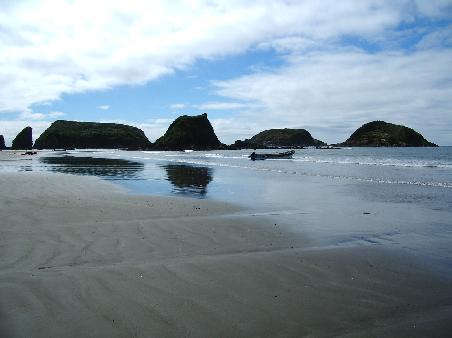 The beach by the penguin colony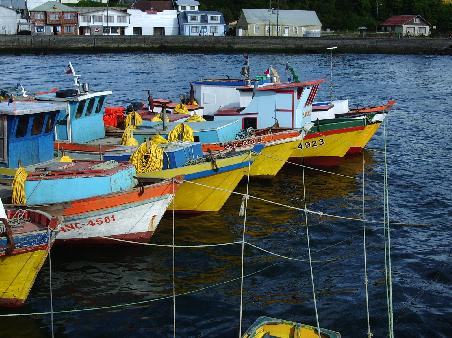 Brighly coloured fishing boats in Ancud harbour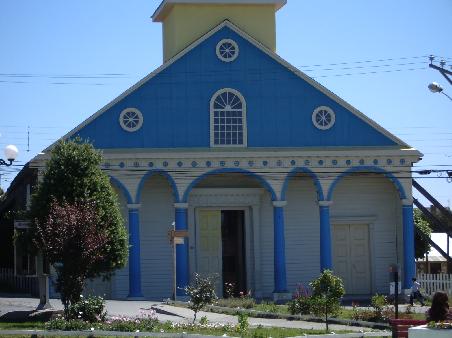 The historic church at Chonchi
© Allison Webb, 2005
Description:
My trip through Peru before heading to Chile to work for 6 months and then travels afterward in South America
Details:
| | |
| --- | --- |
| Start of journey: | Jul 05, 2005 |
| Duration: | 8 months |
| End of journey: | Mar 02, 2006 |
Travelled countries:
Peru
Chile
Argentina
Uruguay
Ecuador
Allison Webb is an active author on break-fresh-ground. since 16 years.