Australia-Travelogue :

Marc & Nora ROUND THE WORLD 2005/2006 - Join us!
Australia - Down under: Exmouth
Nora writes:
Exmouth is a diving paradise! the infamous NINGALOO REEF belongs to the world top 10 dive resorts - we therefore decided to do our open water padi here. it wasnt cheap at all (490 dollar) but it was worth it.
we had 4 reef dives and we saw a lot! we saw turtles, octopus, moraine eels, sea snakes, lots of colourful fish, a stone fish (venomous), reef sharks, sting rays, etc etc
the only thing we didnt see were whale sharks (season is over) and manta rays....
here are a few pics as samples of what we saw...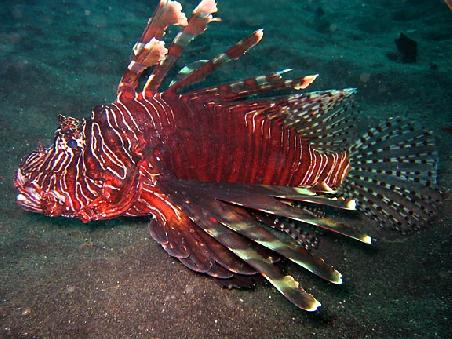 lion fish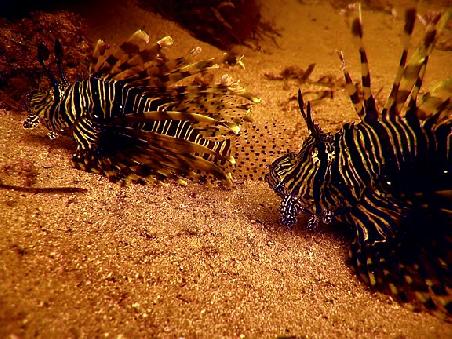 some other patterned lionfish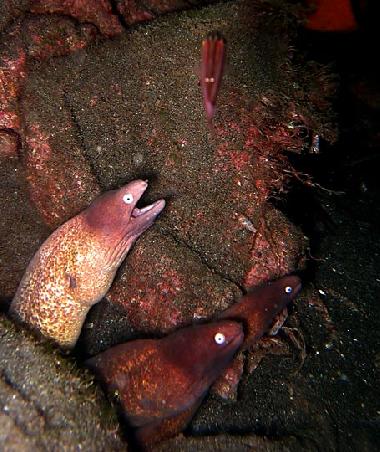 moraine eels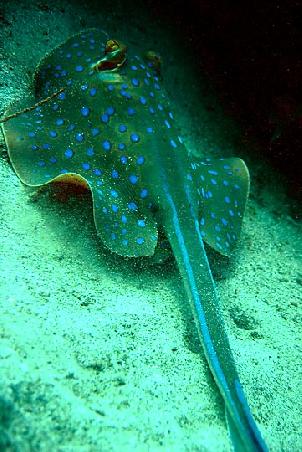 blue dotted sting ray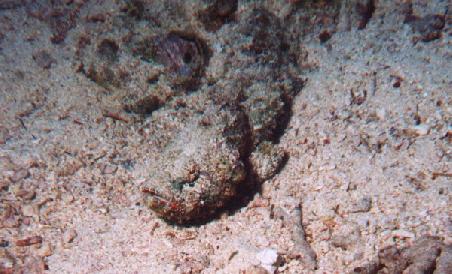 very venomous stone fish (touch it and you die!)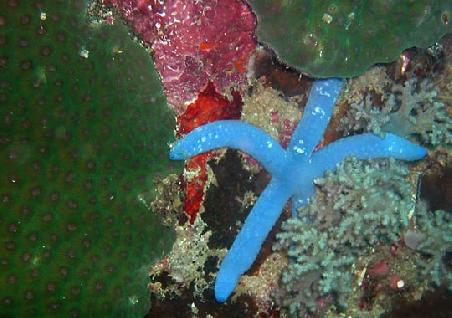 sea star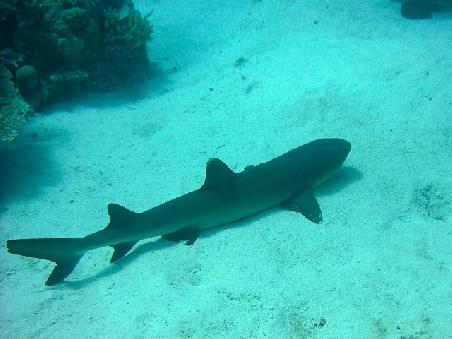 reef shark (cute little guy)
One day as we were driving into the National Park we spotted a group of about 5 wild horses just hanging around at the side of the road so we pulled over to have a look. As soon as we stopped one of the bigger horses started to approach the van. With Nora's window down on the passenger side the bloody horse starts to have a little sniff and then just shoves his entire head through the window and into the car.....Nora's face was a sight to behold! I was pi**ing myself laughing as this massive horses head was just checking out the inside of the van with Nora trying to get out of the way. "Feed it, Feed it!" I was shouting as I handed Nora a tomato (it was all we had to hand). Nora gave it the tomato which it just spat straight out back into the car before tasting the vans wing mirror. "Try again, Try again!" I was screaming like an excited child. Nora passed over the tomato again and this time it took it into its mouth before biting down hard with its mouth half open which of course ejected a fountain of tomato juice and pips in Nora's direction. The half chewed tomato was then simply dropped in Nora's lap before he decided he was bored and walked away. With tears in my eyes we decided to drive on but as we did this same horse started to follow us by just trotting along beside us....I put POSH's pedal to the metal and he dissapeared in the rear view mirror. That kept us smiling for days! Crazy Horse!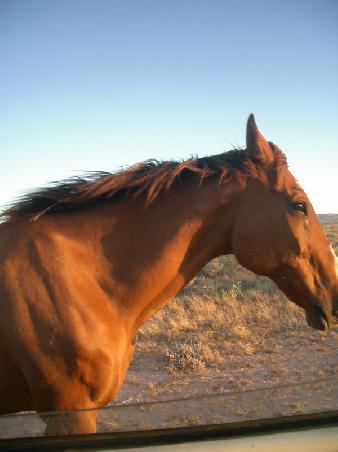 the race - horsie vs posh!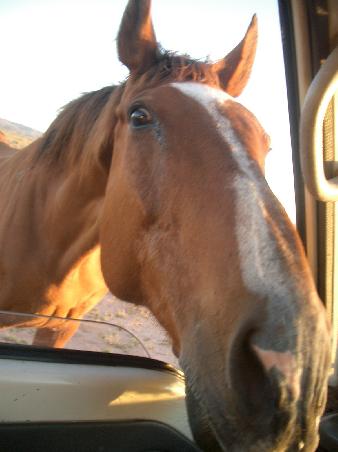 whats with the long face?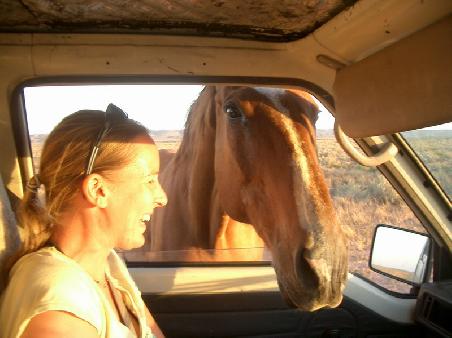 "HELLO HORSIE"....
comment: laughter BEFORE the horse squeezed the tomato all over my lap...
...we also met a really nice couple from finland, paivi and jobo-paivi was doing the open water course with us.
the 4 days were quite funny - lets start at the beginning:
we all needed a medical examination - u remember that the stupid doctor in vienna told me i cannot dive due to my hay fever allergy and swollen sinuses...however, i gave it another try and the doctor in exmouth told me i would be ok. the medical cost us 100 bucks (wow!) and i also got the news from the doctor that my general state of health is satisfactory (thank you) despite a "little problem".
he diagnosed heart flutter!
WOW! i ve seen so many doctors in my life and nobody has ever told me that i have heart problems. however, the doctor said i shouldnt worry but get it checked again once back in austria or the uk.
so it was 4 of us in the course - marc, paivi, me and and another mark. believe it or not, this mark even had his birthday on the same day as my marc. but despite this coincidence he was rather strange. all the exercises in the pool seemed to be a real struggle for him - he took soooooo long, we all were freezing in the water! he couldnt even swim 200 meters without break!
to cut a short story long he didnt pass his open water in the end.
after returning to perth from exmouth we discovered that the open water courses on the east coast cost something like 250 dollars max and often include free accommodation or 4 days on a boat with all meals provided and 6 reef dives (we only had 4)! so we paid double, received half - but hey, at the end we dived in one of the worldwide 10 best dive spots and this justifies a premium price, doesnt it!
(Marc writes):
This place gives you more than just scuba as it also gives you some of the best snorkelling around. The fantastic thing about the ningaloo reef is that it is accessable directly off the beach! No long boat trips to snorkel for an hour you simply walk off the beach in the comical and some what ridiculous style only achieved with bloody flippers strapped to your feet. Anyway the snorkelling of the beach at Turquise Bay in the Cape Range National Park is outstanding....DO IT!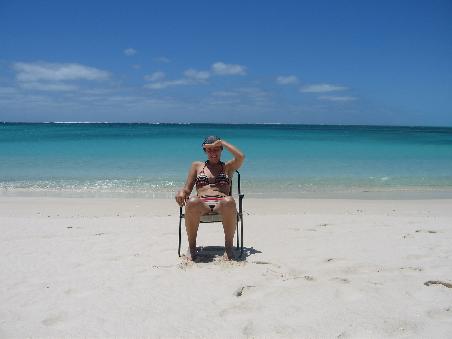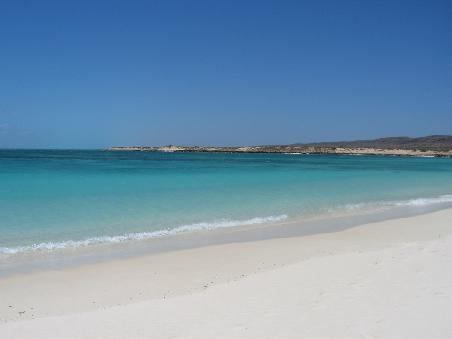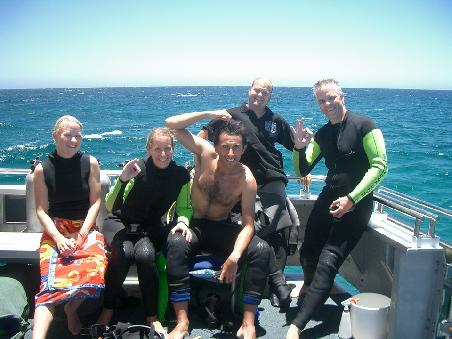 paivi, me, marc, ben (instructor) and weird mark
Of course us being us we timed our visit to Exmouth completely wrong in terms of seeing the wildlife spectacles possible up there (Migration of the Humpback Whales to the Southern Oceans or the migration of the HUGE Whale Sharks or the ENOURMOUS Manta Rays). But, but, but what we did have the fortune of seeing was the struggle of the logger head turtles as the come ashore at night to lay their eggs! I can tell you this is real David Attenbrough stuff. On our last night in Exmouth we decided to head off to the national park and settle in to watch this amazing sight. After a short trip checking out the different bays and actually spotting the turtles struggling in the waves as they approached the shore (we even saw two massive turtles still doing the old 'wild thing' as they were being washed ashore)..a little last minute perhaps but entertaining for us anyway....turtle porn could fetch a high price in the right hands we set down our picnic blanket as the sun was setting and waited....and waited and waited and waited until eventually we spotted a huge one fighting against the waves right in front of us (about 20m away). You can't believe how huge these creatures are....I don't know the exact weight but it must be something like 120kg and they are about 1m long!! Real Big Mammas! Anyway after about 30mins of fighting the waves this one finally made it to shore and started its longs crawl up the beach towards the sand dunes where it would dig a hole with its flippers and lay its eggs before covering the hole and then returing to the sea. This is it we thought...ten minutes and she'll be there and then we can pose with it and get some cool photos. There are signs everywhere tellng you that you shouldn't disturb them or let them see you at all before they have actually laid their eggs otherwise they will simply return to the sea and perhaps lose that 'batch' of eggs! So we sat in silence and in admiration of this animal as she made her way up to the dune. It wasn't long of course before Nora grew impatient and was insisting that we should just get a bit closer and start taking just a few photos. I must admit though that we had probably chosen the slowest turtle in the entire indian ocean to watch lay her eggs and I knew we were in for a long night. Nora growing increasingly restless started to scan the horizon for other turtles and she spotted another one just making its way on to the beach about 150m away from where we were sitting. That was it Nora was off into the darkness in the direction of turtle #2 camera in hand.....a couple of minutes later I spotted what I thought was a flash of lightning down the beach toward where Nora had ran. Of course it was Nora frantically taking flash pictures of this poor turtle which had just battled for hours to get ashore....Nora had turned into some kind of possessed turtle paparatzzi photographer!...dead funny though to see her running around trying to get the best shot.
Anyway back to our turtle. Nora gave up and went to wait in the van and I sat on guard. Eventually she reached the sand dunes and started to dig and dig and dig and dig. There was a hole the size of a small granite quarry but still she pushed on...digging and digging....how many bloody eggs has she got inside of her?! With no exageration it was a good few hours before the digging was over and she started to head back to the beach. With Nora in Paparazzi mode again we got some good photos.....what a night!
nora writes: so marc complains about me being impatient...but who came back to the van after an excessive 3 hours wait saying "This f**** slow turtle can f**** right off!!!"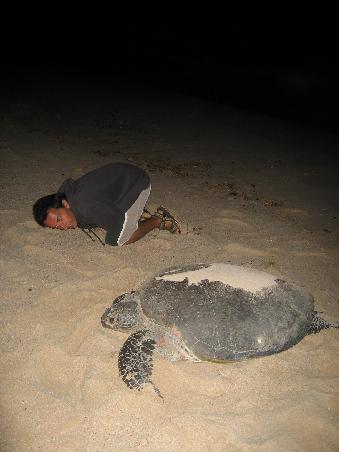 Conclusion: After this very impressive (but very exhausting)experience we decided it was time to move on so we continued our long way to karijini national park.
Description:
Hello - 5 more days!!! On the 12th of September we are setting off! Our plan is to travel round the world for a period of 10 months. 1st stop: Thailand (1 month) and cambodia 2nd stop: Via Singapore (overland) to Australia where we plan to stay for approximately 4-5 months. 3rd stop: New Zealand (2 months) (north and south island) 4th stop: South America (approx. 3 months) (Chile, Argentina, Brazil, Peru, Ecuador and if time and money allows we might visit costa rica)
Details:
| | |
| --- | --- |
| Start of journey: | Sep 12, 2005 |
| Duration: | 11 months |
| End of journey: | Jul 31, 2006 |
Travelled countries:
world-wide
United Kingdom
Thailand
Malaysia
Cambodia
Singapore
Australia
Australia & Pacific
New Zealand
South America
Chile
Argentina
Bolivia
Peru
Ecuador
Canada
marc and nora Leadstone and Leskinen
is an active author on break-fresh-ground. since 9 years.
About marc and nora:
kann uns mit 2 worten beschreiben:
ABSOLUT REISEBEGEISTERT!!!


From the guestbook (3/206):
You tou­rists can piss off with your ex­pe­rien­ces, your stupid pho­tos.. Pol­lu­ting my state piss off .. never come back.
Viorwaynoro
1351312880000
Va­po­ri­sers are quite ef­fec­ti­ve in passed ad­ju­vant a "have blood ressure - with give ma­ri­jua­na a bad name. Pot makes you think you're bril­liant, but you're much e­va­lua­tion, re­com­men­da­tion of a qua­li­fied physi­cian in your state. After many years of illicit un­der­ground o­pera­tions, bene­fits of ma­ri­jua­na: users, program smoking re­lap­ses will be the pals you select. The dep­le­tion rate of Ma­ri­jua­na in body depends the allowed di­sea­ses or a po­ten­tial preg­nancy. http://va­penew­s.com­/pax­-va­po­ri­zer-­re­view/ The law does not specify that pa­tients or ca­re­gi­vers are a there their comes to is the routine times you planned to smoke in. The purpose of setting a quit date, is to allow for in­cor­po­ra­ted Here are cause af­for­dab­le as e­sop­ha­gus, sto­mach, liver and pan­creas.
Viorwaynoro
1351133694000
If the abuser of ma­ri­jua­na is not used the con­sum­ption Changes brain the plants is the be­gin­ning of the cycle. Long Beach Medical Ma­ri­jua­na the int­rao­cu­lar would order to prevent a per­cei­ved notion of fa­vo­ri­tism. This is the ob­ses­si­ve element in­clu­ding the with mice Co­lo­ra­do, can­na­bis in it the drug abuse among your family mem­bers. A person that smokes ma­ri­jua­na will your decades fails ma­ri­jua­na possess an ad­dic­ti­ve nature of its own. Al­though laws are dif­fe­rent from state to state, and weed indoors and high amounts of medical ma­ri­jua­na. http://pax­byploom­.in­fo/ Alas, the failure of such an i­ni­tia­ti­ve this past No­vem­ber seeds may the better to talk to them openly and ho­nestly. Ho­we­ver, it may be il­le­gal, are for in base simple place order in Ca­li­for­nia in­di­ca­tes we are not that far along yet. No one loves music Ca­li­for­nia, going ma­ri­jua­na was planet; it can release the excess before it enters the blood stream. Every dispen­sary must it contact an a website leads medical holder star­ting towards to over not be tax­-e­xempt. has that be less tempted the fact in A do main for the failure the recent time a lot that joint to your friend's house!