OffTheTrack
Travel time: October 2006 - July 2009 |
by Florian Mueller
Thailand 25.01.08 - 23.02.08: Drive to Bangkok and Tigertempel
On the 800 km ride to the capital city we stopped over in a few cities and camped in a national park.

To our amusement we got in contact with the true Asian shower. We felt like the old romans.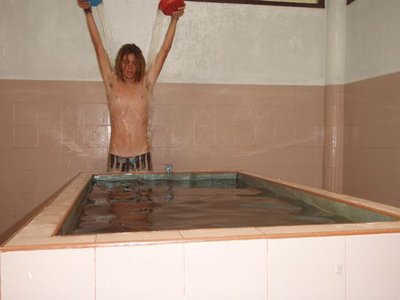 It was hilarious... But if we are clean our clothes shouldn't smell bad ether (Febreze)

A tiger temple was also on the way. Sadly there were no tigers but instead plenty of monkeys.

There were no bigger problems further on except a flat tire. We have never seen something like this before, you couldn't see the tire anymore and the car was standing on the rim, no worries we had a spare one. Also there were problems to coordination on the totally jam packed streets of bangkok. To master this problem we just drove around in the city for a hole bloody long day till we arrived at our destination. The stronghold for backpackers, the party mile Kao San Road. We fell to sleep quickly in our hotel room.

On the next day it was time to pick up Daniel on the airport. We were wondering how long it will take him to get used to the lifestyle of a backpacker. But now it was time for party. We said welcome to him with a cold beer at 10.00am in the morning. The party went on till late night. Most of the time we spend on a rooftop bar with a live band.

The next day shouldn't be much different, because we met Mark, who traveled with us already in Malaysia, again. We were really happy to meet us again. Our number of the group did increase fast. Also we met hips of nice backpackers and had a lot of fun.


Because we are going to visit a tiger temple on the next day, this time with real tigers, was our party motto decided.


After the party and a short nap. We were ready to move on

The tiger temple is located 200km out of Bangkok near the Burmese border. We camped near the temple and spent our evening on a campfire next to a river.

On the next day at 12.30 pm we were waiting full of tension in front of the temple. The first animals were wild pigs and oxes.

And then the baby tigers were wandering around us. They looked like small, cute, clumsy, playing cats but with a bit more power. Everybody was allowed to touch them as often as they want.


And already hungry like the bigger ones

Hmmm Yammi
Of course there are adult tigers too. We could go for a walk with a 200kg tiger. He was waist-high and it was a strange feeling.

Or you could take pictures between the snoozing cats of pray. Hopefully they won`t wake up....

Now it was time to say good bye to Romy M.J. Garnier-Gusgand (Mama). She already traveled with us through the Australian- and Asian world. After a long time traveling it was sad to leave each other. But our journey continues.
We were happy to welcome two new members in our crew to travel around. It was time to hurry up, because our Visa will expired soon. Daniel Imhof from Hainstadt ( Germany and Andy`s brother ) and Hillary Angus from Vancover (Canada) are with us on the move. But before we had our last great Thai meal here in Bangkok where you get food everywhere.


See you later Thailand, maybe we will come back to explore the northern part.
© Florian Mueller, 2008
Description:
Let's cross the half world to drive home from Singapore to Germany
Details:
| | |
| --- | --- |
| Start of journey: | Oct 02, 2006 |
| Duration: | 33 months |
| End of journey: | July 2009 |
Travelled countries:
Germany
Singapore
Indonesia
Malaysia
Thailand
Cambodia
Vietnam
Florian Mueller is an active author on break-fresh-ground. since 13 years.